Do you love Italian wines and live in the Chicago metro area?  I have two tickets to give away, compliments of Slow Wine US Tour, for a deliciously unique wine tasting at Spiaggia on January 29 from 6-8:30pm! See the bottom of this post to enter.
The New Year festivities continue with the celebration of delicious Italian wines and food at Chicago's Spiaggia located at 980 North Michigan Avenue!  The Slow Wine US Tour: 3rd Edition on Wednesday, January 29 from 6-8:30pm will give you the chance to taste and discover your way through the regions of Italy while you learn more about the quality, terroir, and value of each wine.  Discover new wines and meet the people behind more than thirty selected Italian producers who represent the values and quality of Slow Wine.  Eataly, Chicago's popular Italian food and wine mecca, will be on site taking orders for your favorite wines.  
The $45 ticketed event, which includes the famous Slow Wine Guide, (a value of $25), will feature many of the well known and even some lesser known regions of Italy such as Campania, Sicily, and Puglia.  Guests will understand how each area differs in winemaking techniques while they discover small, artisanal, terroir driven wineries which pay the utmost attention to environmental sustainability. A wine newbie as well as a wine aficionado will swirl, sip, and savor during this special event held in the stunning setting of Spiaggia.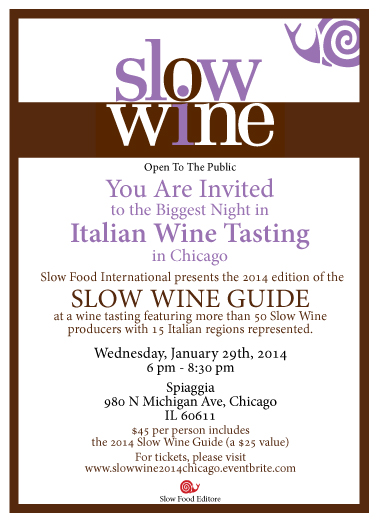 Anyone may order a ticket to this exciting event through Eventbrite. However, if you are in the Chicago area and can attend, enter below for a chance to win two complimentary tickets to the Slow Wine US Tour at Spiaggia on January 29 at 6-8:30pm.  The contest closes at midnight, Wednesday, January 22 and the winner will be contacted within 24 hours. The winner will receive two complimentary tickets but refunds will not be given on previously purchased tickets. Good luck!!
I hope you are looking forward to exploring many interesting Italian wines as much as I am at Spiaggia on January 29 from 6-8:30pm!  I'll see you there!
Salute! ~ Cindy