It's almost Friday and you are already thinking about your weekend plans and perhaps which wines to purchase.  Weekly, I post two recommendations for your weekend wine choices which are usually under $20.   Today's recommendations may be a shock to some *wine snobs* so if you are one of those, just scroll away from this and read another article!  (Perhaps this…)  Recently I was sent samples from Creative Palate, Inc.  in the form of purse wines!
Yes, I'm writing about those purses o' wine which we see at our local grocery story, wine festival, or large wine shop.  You may have yet to pick one up because there is more than a bit of trepidation about the quality of the wine.  But let's just think about it…if you are a true yet annoying oenophile and always wax poetic about a wine with its aromas of an exotic fruit, tastes of a vegetable no one has ever heard of, or the attributes of the particularly long finish, you're not going to even touch this product.  Yet there are those who will.
Might you be attracted by a perky presentation (yes, it's a marketing ploy, but…) and possibilities of a big impact when you walk through a door wielding this put of arm-wine at any gathering needing more pizzazz than the usual guests and boring appetizers?   I can see this handbag of wine given as a gift or brought to a Bachelorette Party, Girls Night Out, happy hour, wedding shower, book club meeting, and more.  Shatter proof and made from recylable packaging, a spigot can be found on the side of the purse for easy pouring (while still hanging on your arm no less!).  And once open, the wine can be kept in the vacuum sealed packaging for up to four weeks.  But just how does the wine taste?  And is it a good value at $15 for  1.5 litres?  Will you open your wallet for this?  Keep reading. ~
**Viama Pinot Grigio-Garganega 2012 – I brought this wine to an after work happy hour at the home of a colleague.  The purse factor was a big plus and there was a bit of high pitched shrieks of delight when the ladies had their first glimpse.  We poured then tasted.  Admittedly, the wine was "just ok" at first…I found almost bitter tastes and some citrus with very high acidity after the first sip.  However, the tastes were better with the second glass and others felt the same.  With notes of honey, pear and apple, the wine paired just fine with our antipasto platter on the deck.  Just be sure to serve it chilled!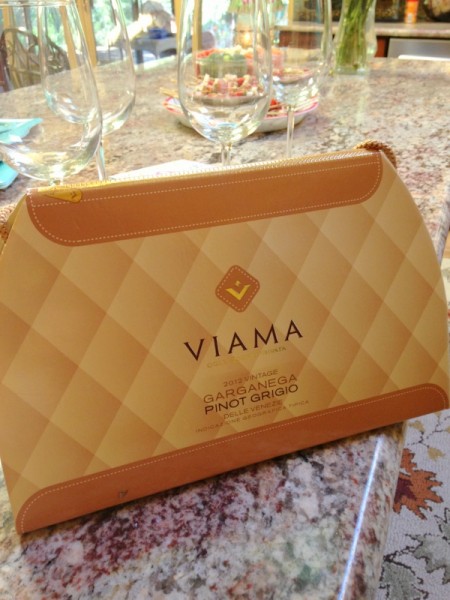 **Viama Rose 2012 – If you are looking for a rose on the sweeter side, this is not for you.  Tart in every sense of the word came to mind when I tasted the Viama Rose 2012.  From Italy's Veneto, the grapes are "non-varietal Rose blend" which basically means that there are many red grapes, the names of which are not disclosed, used in the winemaking process.  I noticed strawberries on the nose and more when tasting and the finish was almost cloying and had a bit of an aftertaste.  If you purchase this wine it needs to be chilled and served with food.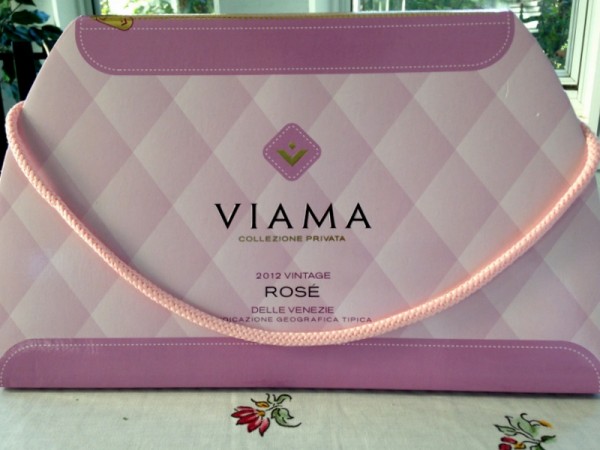 **Viama Merlot-Pinot Noir 2012 - This handbag of fruit was opened when some friends dropped by after work and I needed them to offer their opinions.  There were faint aromas of cherries and strawberries upon opening and it took about fifteen minutes of oxidation to find more which were clear.  On the palate, the tastes were of red fruit with a hint of vanilla.  The finish was good but not particularly lasting.  My wine swilling comrades concurred.  One stated that she would purchase the wine if she was having a party and wanted a fun impact at presentation.  The others mentioned that this wine clearly needs to be paired with food.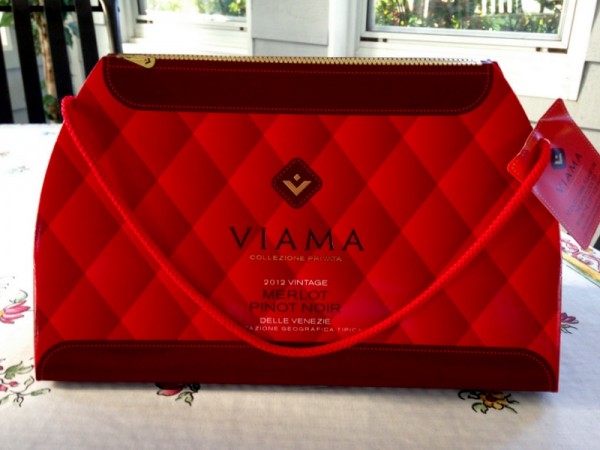 Will you purchase this wine?  At the price of $15. it's worth falling for one of these new handbags and decide for yourself! 
Cheers! ~ Cindy