Minutes away from Thomas Jefferson's Monticello in Charlottesville, Virginia and on the Monticello Wine Trail sits the verdant, rolling landscape of Trump Winery. This past July I was fortunate enough to swirl and sip a flight at the charming tasting room, savor a delicious lunch of crab cakes paired with a vibrant Viognier, tour the wine production facility and barrel cave, drive through the estate vineyards, and relish the grandeur of newly opened Albemarle House. And let's not forget the sweeping views of the vineyards, ponds, and countryside from almost every angle. But what about the wines? As Jefferson remarked, "We could in the United States make as great a variety of wines as are made in Europe, not exactly of the same kinds, but doubtless as good."  Read on.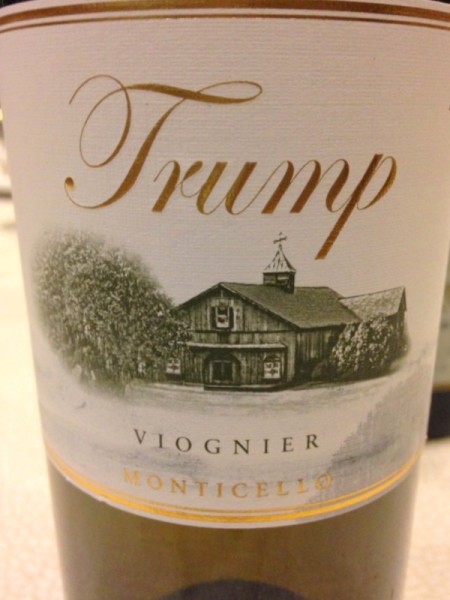 After participating in a wine chat at Chicago's
Trump International Hotel
with their sommelier and others via Twitter earlier this year (and being blown away with the quality of the wines), I maintained contact with Kerry Woolard, General Manager, and Ashley Rutter, Wholesale Manager, both of whom graciously extended an invitation to visit
Trump Winery
on my next visit to Virginia. I was thrilled to set the date; my husband, a wine lover (thank goodness!) accompanied me to Charlottesville on that warm summer day.
The History
The Trump Organization purchased the foreclosed upon Kluge Estate "for just pennies on the dollar". Opened in 2011, Trump Winery, Virginia's largest vineyard and now home to award winning, terroir driven wines, has as its President, Eric Trump, who "oversees everything from winemaking and marketing to global distribution and sales". Winemaker Jonathan Wheeler has been with the winery since 2006 and leads the sparkling wine program. Originally from the Finger Lakes wine region of New York, Wheeler, who has winemaking experience in Sonoma and Monterey, California and New Zealand, is able to bring knowledge of "old world sparkling wine techniques blended with modern winemaking expertise".  Sparkling wines are produced using méthode champenoise.
Inspired by Thomas Jefferson's penchant for French wines of Bordeaux, the Rhone, and Champagne, plantings are 48% Chardonnay, 50% Merlot, Cabernet Sauvignon, Cabernet Franc, Petit Verdot, Pinot Noir, Pinot Meunier, and Malbec, and 2% Sauvignon Blanc, Viognier, and Semillon. Plans are to add sixty acres of Petit Verdot, Cabernet Franc, Sauvignon Blanc, and Viognier. All wines are from estate grown grapes in vineyards with an elevation between 600 and 1100 feet; sustainable practices are utilized.
My Favorite Wines
The wines were just as lovely and enjoyable as the surroundings. Ashley led us through our tasting and shared her notes while I wrote my own. Naturally I had favorites, briefly reviewed below, that followed us home to Chicago.
The Sparkling Blanc de Blanc 2009 is 100% Chardonnay exhibiting persistent bubbles and notes of green citrus, baked bread, and stone fruit ($24). Following were sips of the Sparkling Rosé 2009, a lively blend of 92% Chardonnay and 8% Pinot Noir with aromas and tastes of fresh strawberries and raspberries. ($28) I recently opened a bottle of the Sparkling Rosé with family members who were amazed at the quality.
Viognier is the signature grape of Virginia and Trump's Viognier 2013 is an excellent example. Presenting brilliant aromas of stone fruits, white flowers and notes of more of the same along with vanilla on the palate, I loved the elegant and rich mouthfeel. ($24)
The Meritage 2013 is a Bordeaux style blend of 33% Cabernet Sauvignon, 26& Merlot, 16% Cabernet Franc, 14% Petit Verdot, and 11% Malbec. Smooth from beginning to end, I appreciated its brilliant aromas and tastes of black fruits, chocolate, touch of spice, and herbs with medium body, acidity, well integrated tannins, structure…and the price! ($20)
We were anxious to try the Chardonnay since it seems that so many of our friends and family consider it a go-to white wine. Trump's Chardonnay 2014 didn't disappoint. Aged in 90% stainless steel and 10% French oak, bright pear and citrus aromas led to refreshing, crisp, fruit forward tastes. ($16) This Chardonnay has already been enjoyed on our back porch with fellow wine lovers.
The surprise of our tasting was CRU, a sweet port style wine fortified with brandy. Created from blending Chardonnay juice and Chardonnay brandy, CRU was aged in American bourbon barrels and has 18% alcohol and 14% residual sugar. ($28) Ashley made us a cocktail of 2 ounces each of CRU and Blanc de Blanc…what a fabulous way to spend a morning!!
Plan Your Visit
I encourage you to enjoy the breadth of the winery's website and plan a visit when you are in Virginia. And don't forget to stop by Monticello in order to understand America's first true wine aficionado. I think Thomas Jefferson would be quite proud of the wines of Trump Winery, only a few miles from his home.
Cheers~ Cindy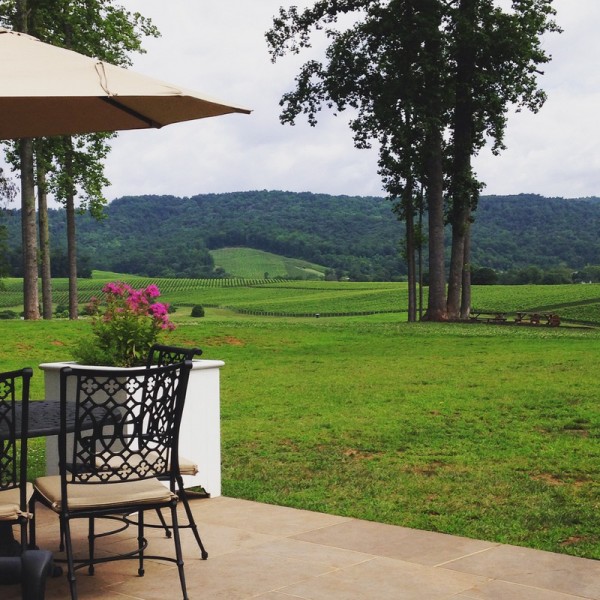 Note: Please see my Facebook page for more pictures of the wines and Trump Winery.