How many times do you purchase a pre-cooked rotisserie chicken or use your standard recipe and prepare it yourself? I'm guilty on both counts and to be honest, although my family enjoys the meal (and leftovers), the process, although quick, is boring.  If you're in the same roasted chicken rut with me, you may want to try the new recipe and wine combination I found that makes something ordinary quite extraordinary.
Recently I was sent samples of wine from Hearthstone Estate in Paso Robles AVA along with suggested recipes for pairing, one of which was for Mediterranean Herb Roasted Chicken.  The necessary ingredients were already in my pantry and the preparation was incredibly easy; all I needed to purchase was the whole chicken.  Suggested to serve with the dish was their Hearthstone 2010 Lodestone, a blend of Syrah, Grenache, and Mourvedre.
Hearthstone Estate is located in the Adelaida area of Paso Robles, one of my favorite wine regions.  Forty acres of vineyards featuring twenty grape varieties are found on higher elevation limestone slopes.  Paul Ayers, Winemaker, controls the unique qualities of the lots of wine in separate small batches. The grapes found in all Hearthstone wines are estate grown and sustainable farming is consistently practiced.  I've been to the Paso Robles AVA several times and look forward to stopping by Hearthstone on my next trip.
Wait patiently for the
Mediterranean Herb Roasted Chicken 
to be done before opening the bottle of
Hearthstone 2010 Lodestone
?  I don't think so! Prior to making the dish I popped the cork and let the wine breathe for about thirty minutes.  On the nose, dark red fruits, floral aromas, smoke, and minerality indicated that this was going to be a very satisfying wine.  More dark fruits including blackberries, pepper, earth, and tingly spice were prevalent on my palate and the subtle tannins and acidity combined to create balance.  The wine, combined with the herbal notes of the chicken, brought forth more intense texture and tastes.  The lingering finish helped make this flavorful roasted chicken that much more delicious.  Cost is $30.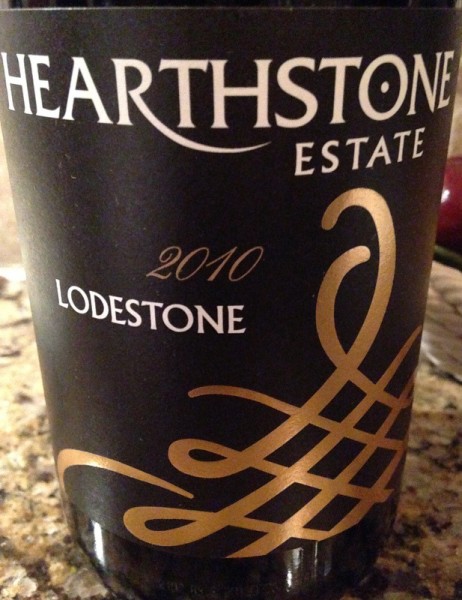 Mediterranean Herb Roasted Chicken

Print recipe
Ingredients
1 3 1/2 pound chicken
2 tablespoons olive oil or butter (softened)
1/2 teaspoon dried basil
1/2 teaspoon dried oregano
1/2 teaspoon dried rosemary
1 clove garlic (crushed with press)
3/4 teaspoons salt
1/4 teaspoon black pepper (coarsely ground)
1/2 cup water
Directions
Step 1
Preheat oven to 450 degrees F. Remove bag with giblets and neck from chicken cavity. Discard or reserve for another use.
Step 2
In cup, mix olive oil, herbs, and garlic. With fingertips, gently separate skin from meat on chicken breast. Rub herb mixture on meat under skin.
Step 3
Tie legs together with string. Rub chicken all over with 3/4 teaspoon salt and 1/4 teaspoon coarsely ground black pepper.
Step 4
Place chicken, breast side up, on rack in small roasting pan. Pour 1/4 cup water into roasting pan.
Step 5
Roast chicken 1 hour or until juices run clear when thickest part of thigh is pierced with tip of knife and temperature on meat thermometer inserted into thickest part of thigh reaches 175 degrees F.
Step 6
When chicken is done, lift from roasting pan and tilt slightly to allow juices inside cavity to run into pan.
Step 7
Place chicken on platter. Let chicken stand 10 minutes to allow juices to set for easier carving.
Step 8
Remove rack from roasting pan, carve, and serve.
Step 9
Enjoy!
Cheers! ~ Cindy