I am thrilled to publish this guest post written by Dan Sachs, Owner of Chicago's BIN 36, an incredibly popular venue for lovers of great wine and delicious food.  Their annual Bubble Bath event on December 11 is one which shouldn't be missed for a variety of reasons…read on!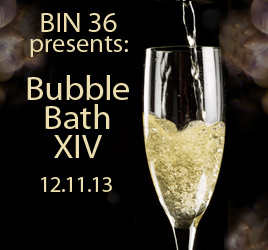 14 years ago, when BIN 36 was in its infancy, we spent a lot of time thinking about events that would be really special. Wine dinners – even 14 years ago – were pretty common, and we wanted to make sure the restaurant represented something fresh; a new way to experience, learn about and enjoy wine.  And so, after a few bottles of our own, the idea behind Bubble Bath began to take shape.
We wanted to create an event that really told a story about one specific style of wine—one that was big enough to be fun and casual and entertaining all at the same time.  Bubbly seemed like an ideal place to start – with infinite styles, grapes, flavor profiles and regions, it seemed like a natural fit.  And, interestingly, our Bubbly Wine Flight is the only flight on the list that has stood the test of time.  The wines have changed, but the flight has remained a favorite since it was created.
Our first Bubble Bath, as it became affectionately know, showcased about 40 sparklers, and we opened the doors to about 175 guests.  Since then, the event has grown to over 60 sparkling wines and champagnes and 450 guests.  This year, I think the event will be even bigger!
Not only has the event grown, in size, but our impact within the community has grown as well. Only a few years ago, we decided Bubble Bath was the ideal event to foster all the good will of the holiday season, and invited a charity partner to join us.  Chicago and the wine community here have given BIN 36 so much support over the years, and Bubble bath has always felt like a good time to give something in return.
This year we are proud to have partnered with Common Threads for Bubble Bath, as well as throughout the holiday season.  In addition to making a donation from a portion of the ticket sales, BIN 36 is offering a Common Threads/BIN 36 gift basket and a Common Threads Gift Certificate.  A portion of the revenue generated from the sale of these items will also be donated to Common Threads.
Lastly, as an added bonus this year, we have a guest chef – Art Smith, founder of Common Threads, who will be at the restaurant signing his newest book, talking about food and entertaining, and, perhaps, sampling a few glasses of bubbly along the way.
We invite you to take the opportunity to sample a wide breadth of champagne and sparkling wine, maybe learn a little something, and, of course, have fun.  Bubble Bath 14 will be held between 6-9 pm on Wednesday, December 11th.  Tickets are $50 (with a VIP upgrade option!) and available here.
Cheers!  -Dan Sachs
Thanks, Dan! I'll see you and many other wine lovers at BIN 36 on December 11~
Cheers! ~ Cindy