Wherever you are right now, frolicking on the beach under sunny, warm skies or bundled in your cold weather gear in front of a fireplace, there are two Napa Cabernets that can be savored…now.  Both are so incredibly smooth, balanced, and, well, elegant that any white wine lover will toss that glass of Pinot Grigio aside and ask for a pour of one of these.  What am I loving (that you should, too) right now? Faust Cabernet Sauvignon 2012 and Cornerstone Cellars 2011 Napa Valley Cabernet Sauvignon, both sent to me as samples, are the "it" wines of my week.
When many think of Napa Cabernet Sauvignon, wines that are big, rich, and bold with high tannic structure may come to mind. But there are plenty of winemakers crafting softer Cabernets that express the purity of the fruits grown in a variety of vineyards each with its own microclimate and terroir.  As much as I appreciate those traditional grand Napa Cabernets, my palate leans towards those that are more elegant in design;  I want to be able to open an appealing bottle of Cabernet after a long day of snowboarding as well as during a lovely summer lunch on the patio…and be completely satisfied.
Faust Cabernet Sauvignon 2012 (sample) is a perfect example of a wine from a vintage year that was ideal.  A beautiful summer of warm days and cool nights in Napa led to a harvest offering no surprises from Mother Nature.  Cabernet Sauvignon from Rutherford and Coombsville, and Merlot, Cabernet Franc, and Petit Verdot from growers in Atlas Peek, Mount Veeder, St. Helena, and the Oak Knoll District were hand picked, double sorted and crushed, then cold soaked and fermented in French oak and stainless steel tanks.  After maceration and malolactic fermentation in the barrel, the wine was aged for 19 months in 100% French oak.
Aromas of mint, chocolate, red fruit, flowers, and sweet vanilla spice were rich and intense.  On the palate, this dry wine with mouthwatering acidity and well integrated tannins burst with juicy ripe berries.  Balanced and complex, intense yet graceful, the satin like finish with a touch of spice reminded me with every sip why I love wine.  Cost is $49.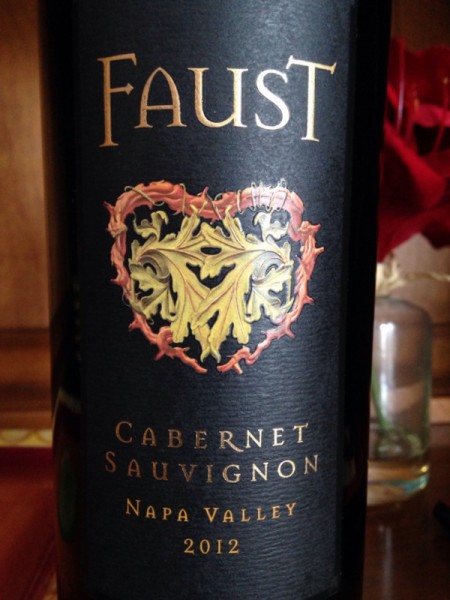 After tasting the focused and structured 
Cornerstone Cellars 2011 Napa Valley Cabernet Sauvignon
 (sample), you would never know that the 2011 vintage posed challenges to Napa Valley winemakers.  At the same time,  I had no doubt that those at Cornerstone Cellars would succeed; their commitment to producing wines of quality is constant .
A wet winter and spring with rain continuing into June delayed bud break and without high temperatures during the summer, the fruit ripened ever so slowly albeit at the same rate.  The harvest was later than usual thanks to more rain yet warmth finally arrived and grapes were finally ready for picking. Cabernet Sauvignon from Kairos Vineyard, Oak Knoll District, Oakville Station, Ink Grade Vineyard, Howell Mountain and Merlot from Oakville Station spent 22 months in French oak barrels prior to bottling.
And the profile of the 2011 Napa Valley Cabernet Sauvignon? Teasing me to take that first sip were enticing aromas of black cherries, licorice, chocolate, dried rosemary, and damp earth.  Dark, red, luscious fruit notes, vanilla, and mocha were braided with soft, supple tannins and bright acidity.  With a velvety finish that lingered, this appealing wine is as elegant as you'll ever find in a Napa Cabernet.  Cost is $65.
Most wine lovers know that it makes perfect sense to open a bottle of rich, elegant Cabernet during the winter months – instant warmth!  Beach loving snowbirds, may decide that a cool, crisp white wine may be their only choice.  I get it – it's hot and you want to chill with a cool glass.  But wait.  A perfect end to a cold
or
hot day will be a glass or two of
Faust Cabernet Sauvignon 2012
or
Cornerstone Cellars 2011 Napa Valley Cabernet Sauvignon
. Because elegance is always in style…whatever the season.
Cheers~ Cindy