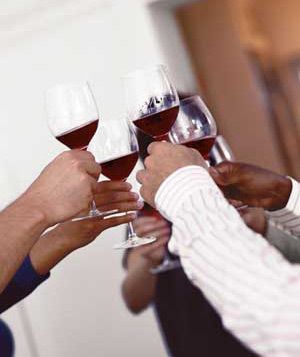 Who doesn't love going to a wine tasting? The fall is one of my favorite seasons for public or industry wine events and tastings at festivals, wine shops and wineries. As I open the newspaper each day, it seems that more and more events are publicized. If you're a newbie to the wine tasting world or a seasoned swirler, it doesn't hurt to be reminded of the manners that matter when going to a wine event.  Rules can be broken, of course, without the eagle eyes of the Wine Police (or your mother) – but if you remember a few simple points, the wine tasting experience will be that much better for everyone.
1.  Hold your glass at the stem. You'll have more control of the glass and the warmth of your fingers won't affect the temperature of the wine.
2.  As you visit each winemaker's table at a large tasting event, let them pour, listen to their explanation of the wines, and enjoy the experience.  Ask questions to the one who is pouring, but don't monopolize their time since there may be others waiting to taste.
3.  Reserve your vocal opinion of the wine until everyone has tasted. Be appropriate and respectful with your comments.
4.  In the event that there are many people waiting for your front row spot at the table, let others take your place.  Don't overstay your welcome!
5.  Instead of guzzling the wine, take time to swirl, sip, and savor!  Try to identify aromas and tastes then write your notes in a journal or program from the event.
6.  Many people drink too much at wine tastings and regret it later.  You can take a sip then pour the wine from the glass to a bucket which is always on the tasting table or you can spit.  And as one wine lovin' friend reminded me, don't drink from the dump bucket!
7.  Don't wear anything white to a tasting.  I think the reasoning behind this tip is obvious (think bucket backsplash)!
8.  You don't need to rinse your glass after every tasting.  However, if you taste a red after a white or vice versa, you'll need to rinse with the wine you will be tasting.
9.  If you are at a winery's tasting room, you shouldn't feel obligated to join their wine club or purchase wine.  But it you do, you'll be able to enjoy the wine later and savor the memories of your tasting.
10. Thank your host or the person who poured the wine when you leave the table or event.  It's just the right thing to do.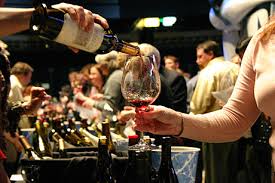 Enjoy tasting some delicious wines and have fun!
Cheers!~ Cindy