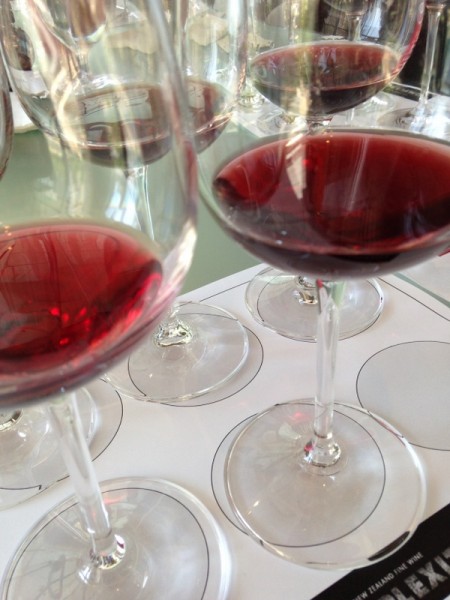 New Zealand was put on the wine map with their Sauvignon Blanc that exhibits its signature grapefruity aromas and tastes .  But there are more wines in that beautiful country which beg notice and a healthy pour.  Recently, representatives from New Zealand Complexity, a portfolio of "most impressive wines to showcase some the best what New Zealand can offer the USA" with its "hero wines and winemakers", arrived in Chicago.  The Masterclass tasting was held at Rebar, the uber-hip lounge at the Trump Hotel.  Fortunately, Rebar's sweeping views of the Chicago River and skyline didn't distract me from tasting fifteen incredible wines which included Pinot Gris, Sauvignon Blanc, Cabernet Merlot blends, and Pinot Noir.
Enthusiastic winemakers from Canterbury/Waipara, Marlborough, Martinborough, Hawkes Bay, and Central Otago were in attendance and were thrilled to share tidbits about their winery, tasting notes, and an appreciation for their beautiful country.  Each remarked that they were not "standing still" or "resting on their laurels" but constantly striving to create better wine.
One region which seems to be on the cutting edge of New Zealand winemaking and piqued my interest is Central Otago.  As I tasted through four remarkable Pinot Noirs, I realized I needed to learn more about this up and coming area. With each sip I could taste the passion of the winemaker, the beauty of the region, and the quality of the grapes.
From Amisfield, the RKV Pinot Noir 2007 exhibited old world spice with vibrancy and purity from a cool vintage.  The Felton Road Block 3 Pinot Noir 2005 was incredibly smooth with spice, fruit, subtle vegetable notes, cinnamon, and cloves and the Mt. Difficulty Pipeclay Terrace Pinot Noir 2002 showed tingly spice and voluptuous fruit.  Finally, the Quartz Reef Bendigo Estate Pinot Noir 2001 looked and tasted a bit like sherry.  Rich and somewhat sweet with acidity, plenty of fruit (raisins?), this wine was incredible.  Apparently, I'm not the only one who has more than a passing interest in this wine region.  In April 2014, the Duke and Duchess of Cambridge visited Central Otago.  Local wineries were selected to share their best wines with a focus on Pinot Noir at a private event held at host winery Amisfeld.  Felton Road, Mt. Difficulty, and Quartz Reef were among those included and I would love to know what the royals thought about Central Otago Pinot Noirs!
Although there were vineyards in Central Otago as early as the late 1800s, a renewed interest in winemaking has occurred.  Now, modern wineries have been in production for approximately twenty years with twenty-thirty year old vines the oldest.  Twenty physical wineries with 175 vineyards can be found.  A new generation of winemakers has worked incredibly hard to work the land which by all accounts is a "brutal landscape for vines".  Sustainable viticulture is practiced and the organically grown grapes claim the highest percentage in New Zealand.
Central Otago is the world's southernmost wine region and the New Zealand's highest.  With its semi-continental climate,  there are 850-1100 growing degree days.  Frosts are expected and a sharp diurnal shift, brilliant sunshine, and hot summers suggest that optimal site selection is paramount within each sub-region.  Climate, aspect, and altitude are factors to consider as is the soil which, common to all of the sub-regions, is Schist based, glacial, alluvial and free draining.  The good news is that dry autumns and usually low humidity provide the setting for wines exhibiting depth and complexity.  The result? Pinot Noirs from Central Otago exhibit an incredibly complex flavor profile which has prompted Jancis Robinson, MW, to state "Many believe this is where the Pinot grail is to be found."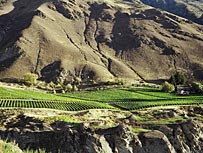 Of the 1909 hectares (ha) under vine, Pinot Noir claims 1356 ha.  Following are Pinot Gris, Riesling, Gewurtztraminer, Chardonnay, and Sauvignon Blanc.  I encourage you to explore the
New Zealand Complexity
website for more information.
With fewer than 18,000 residents and an area of 10,000km, nature and Pinot Noir reign in Central Otago.  Snow capped mountains, rivers which glisten, ancient rocks, and tussock are the backdrop for breathtaking views.  There is the clear, bright light of sunshine during the day and a star studded sky at night.  Leaving the stress of daily life behind I can see myself appreciating these vistas in Central Otago with a glass of Pinot Noir in my hand.  I'm ready.  Won't you join me?
Cheers~ Cindy