It's time for another food and wine pairing extravaganza from the #WinePW group and if you're a Merlot lover, you'll love it! Because October is #MerlotMe month, each of the group's fortunate wineloving foodies received sample bottles of wine from a variety of producers from California so that we could pair them with a complementary dish of our choice. Passionate about wine and food pairings, each of us planned and prepared our recipes with hopes that you will join us on Twitter this Saturday, October 10 at 11 am Eastern.  Simply use the hashtag #WinePW to join the conversation. Learn about about our delicious Merlot and food pairings and be ready to share your thoughts.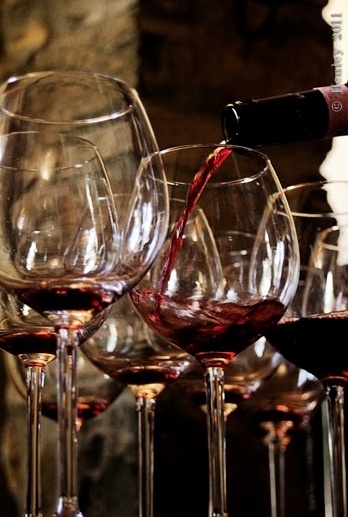 You may be surprised to read that Merlot is the second leading variety planted in California, the first being Cabernet Sauvignon. Its grapes, lighter blue and black than those of Cabernet Sauvignon, have a thin skin with loose bunches of berries hanging from the vines. In general, dominant flavors include raspberry, black cherry, plum, chocolate, and cedar yet earth, herbal, and floral notes may be detected. One of the primary grapes used in Bordeaux blends, Merlot from the Right Bank of Bordeaux, especially St. Emilion and Pomerol, helped boost its international reputation. California vintners have found success in their plantings of Merlot and each expresses its terroir as well as the winemaker's style. Merlot on its own suggests gentle tannins and softness; in a blend, it adds, among other notes, a smooth and luscious mouthfeel.
I was pleased to receive one bottle each of Duckhorn Napa Valley Merlot 2012 (sample) and J.Lohr Paso Robles Merlot 2013 (sample). Yet, the challenge was to choose a recipe that would complement both wines while bringing out the flavors and nuances of each. It didn't take long to decide upon a recipe for Duck Breasts Provençale found on the Maple Leaf Farms website and, naturally, create this dish using Maple Leaf Farms duck breast filets. This savory dish boasting olive oil, Herbes de Provence, capers, sundried tomatoes, Kalamata olives, and parsley atop the lightly seared then roasted duck breasts was absolutely scrumptious. It looked and tasted like a gourmet's delight but was effortless to make; the Duck Breast is Provençale a dish I will make again and again…with a side of Merlot, of course! Read on…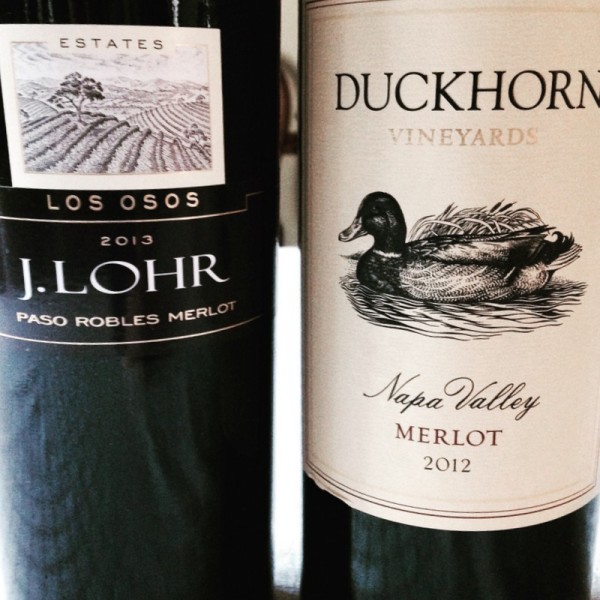 The
Duckhorn Napa Valley Merlot 2012,
luscious blend of 88% Merlot, 7% Cabernet Sauvignon, 2% Petit Verdot, 2% Cabernet Franc, and 1% Malbec, presented intense aromas of black cherries, plums, and spice. Dry with succulent acidity and finely woven, satin like tannins, spice was dominant with blackberries, plums, mint, lavender notes, vanilla, and hint of cedar on the finish. Structured and complex courtesy of the blend, each taste of the duck breast followed by a sip of the Duckhorn Merlot was a surprise. This rich wine with its cedar, mint, and black fruit flavors highlighted the intriguing Mediterranean tastes of the Kalamata olives, capers, and sundried tomatoes. Cost is $54.
Another choice, J. Lohr Paso Robles Merlot 2013, was a woodsy blend of 86% Merlot and 14% Malbec. Paso Robles is one of my favorite wine regions and has received international attention for its production of quality Bordeaux blends. After aerating for thirty minutes, I noted aromas of cherries and vanilla wafting from the glass. Flavors included chocolate, spice, black cherries, and pomegranate with notes of spice, lively acidity, and integrated tannins that led to a lingering, fruit forward finish. The wine was delightful with the Duck Breasts Provençale; it would also serve as a wonderful pairing with roasted duck under a light herb sauce. Cost is $15.
Duck Breasts Provençale

Print recipe
Ingredients
4 duck breast filets
2 teaspoons herbes de Provence blend
1/4 teaspoon olive oil
1 cup low-sodium chicken broth
1/4 cup pitted Kalamata olives (chopped)
1/4 cup oil-packed sun-dried tomatoes (chopped)
1 tablespoon capers (rinsed)
1 tablespoon parsley (chopped)
Directions
Step 1
Heat oven to 425 degrees Fahrenheit.
Step 2
With small sharp knife, remove skin from duck breasts. Season breasts on both sides with herbes de Provence.
Step 3
In 10 inch nonstick skillet, heat oil over medium high heat. Add breasts and brown on both sides, about 2 minutes per side.
Step 4
Transfer breasts in one layer to baking dish or another skillet and place in the oven. Cook about 6 minutes for rare, 8 minutes for medium rare, and 10 minutes for medium, turning breasts once after 4 minutes.
Step 5
While breasts are in the oven, make pan sauce. Pour off fat in the skillet where breasts were browned. Add chicken broth, olives, tomatoes, and capers. Simmer until liquid is reduced to about 1/2 cup.
Step 6
Remove duck from oven. Cut each breast crosswise on a slight angle into 4 to 5 slices about 1/2 inch thick. Fan 1 breast on each plate and spoon sauce over duck. Sprinkle with parsley.
Step 7
Enjoy!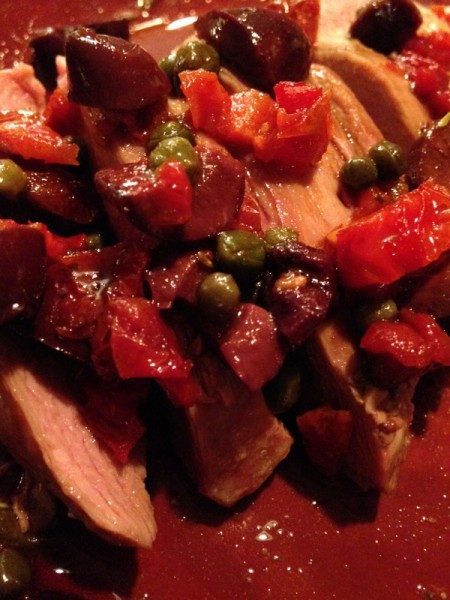 Cheers to Merlot! ~ Cindy 
See what our bloggers have cooked up! And please join us on Saturday, October 10 at 10am Central Time on Twitter. Use the hashtag #WinePW and share your thoughts.