It's time to get out the ugly Christmas sweaters…or at least go to a thrift shop, raid Mom's closet, or get creative with some old sweatshirts in order to add merriment to the now popular theme party of the season.  This past weekend, Mr Grape-Experiences and I attended our neighborhood party at which all of the ladies and half of the gentlemen were decked out in their array of shocking colors and designs.  It was a true throwback evening!
Frankly, these six sweaters inspired me to think about a particular wine (what a surprise!).  When you look at each sweater shown below, can you guess the pairing?  There should be enough clues to make this easy for you and the answers are below.  Since you all are savvy wine lovers, I bet you can do this quicker than I pulled my ugly sweater out of the dusty area of my closet!
Cheers and good luck! ~ Cindy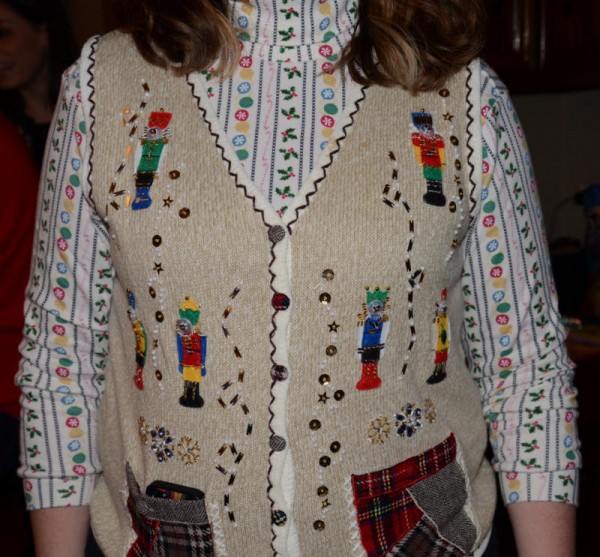 1.  This sweater is a blend of many many parts…holly, nutcrackers, snowflakes, *intricate* beadwork and more suggesting the "nuances" of the brilliant knitter.  Plenty of color with a suggestion of high alcohol (because we need it after viewing this…), this sweater may represent…
a.  Grenache-Syrah-Mourvedre    b.  Riesling   c.  Merlot   d.  Pinot Blanc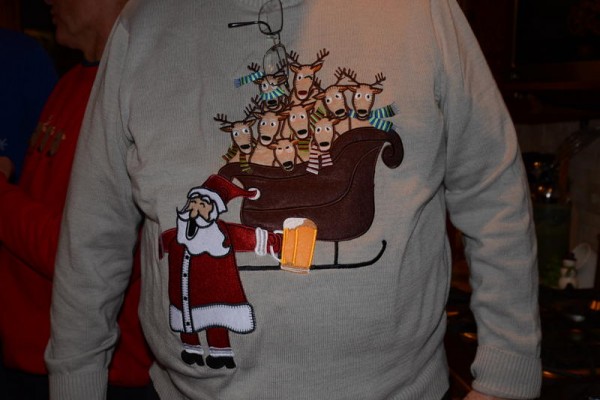 2.  Hmmmm~ It looks like Santa needed a beer during the long ride and since he is quite the gourmet, I'm sure he only had the best beer on the Continent.  But which wine do you think he'll have while in the same country?  Perhaps a…
a.  Pinot Noir   b.  Shiraz   c.  Riesling   d.  Assyrtiko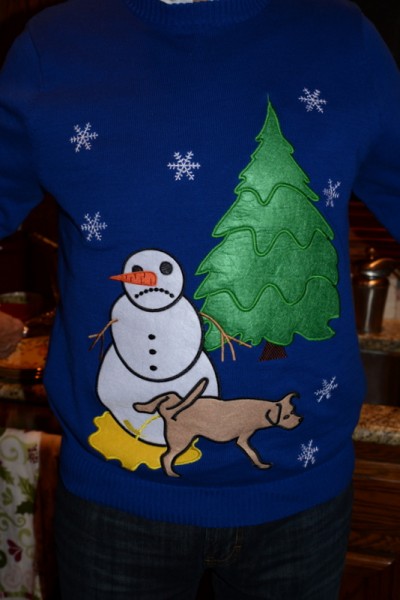 3.  This snowman isn't happy, but the dog is quite relieved.  Yep, it's an ugly sweater, but quite a conversation starter once you get close enough to really see what's going on!  Now, I'm not sure this will remind you of a wine, but you might need a hearty, spicy glass of this after you realize what happened to Frosty!  Will you have a….
a.  Pinot Grigio   b.  Prosecco   c.  Zinfandel   d.  Rioja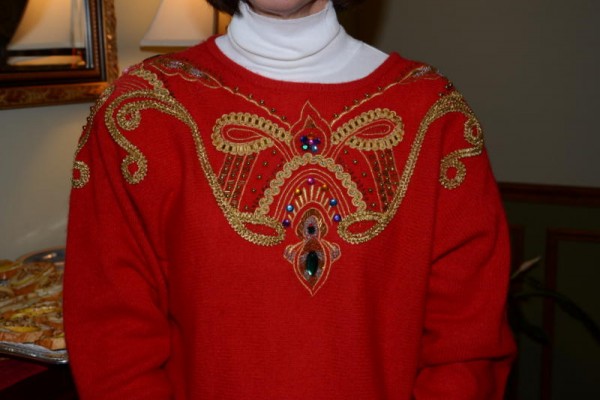 4.  Let's hear it for shoulder pads, piping, embroidery, beads, and jewels!  The ladies on Dynasty most likely owned a sweater like this and when they weren't drinking Martinis and Harvey Wallbangers, they may have been drinking…
a.  Tokaji   b.  White Zinfandel   c.  Viognier   d.  Chenin Blanc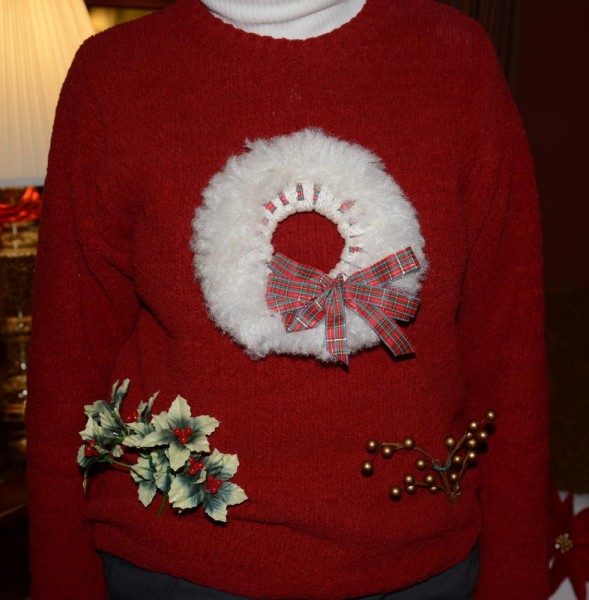 5.  Of course someone had to do a DIY sweater…a pure example of not adding too much embellishment to get the idea across…and it was quite cost effective!  Firm structure in this sweater with some fresh fruit and floral notes could possibly remind you of…
a.  Malbec   b.  Albarino   c.  Pinotage   d.  Port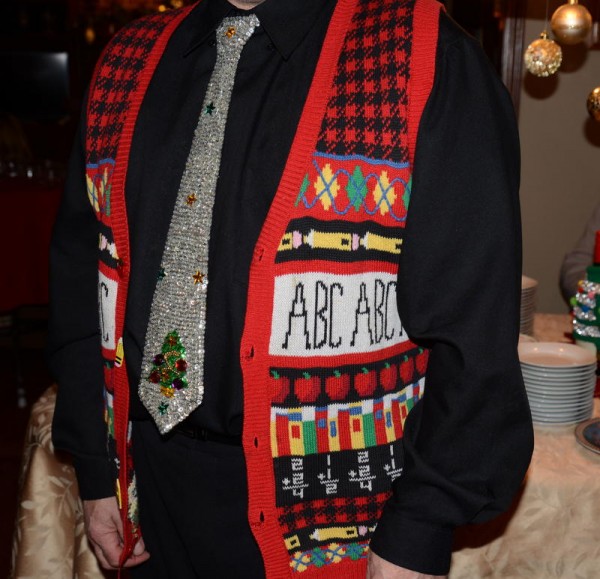 6.  Last but not least, this guy put it all together in one big learning moment~ letters, numbers, books, apples, pens, and a sparkly tie to boot – at least the colors were spot on for the holidays.  You have to give this guy plenty of credit for channeling his inner educator on the weekend.  So, which wine do you think most teachers want at the end of the day?  If they are young, they most likely imbibe…
a.  Moscato   b.  Chablis   c.  Monastrell   d.  Port
*Answers*
1. a     2. c     3. c     4. b     5. b     6. a