Although I'm more than disappointed that my beloved Green Bay Packers aren't in Sunday's Super Bowl, I'm creating an action plan to help me get through and actually enjoy the football marathon.  I've made up my mind about which team to cheer for (the Seahawks) and which colors to wear during the game (green and yellow as an homage to the Packers).  Most importantly, I've decided what dish and wine to bring to the party.
My year long food obsession has been Spicy Vegetarian Chili from Whole Foods.  During last year's Polar Vortex, nothing satisfied me more than a cup of this chili laden with peppers, onion, chili, cumin, chipotles, cilantro, beans, and more.  I continue to crave this hearty vegetarian delight chock full of nutrients and bold tastes and I'm hoping that others will find it just as delicious as I do – even those meat loving football fans.
Spicy Vegetarian Chili

Print recipe
Ingredients
2 tablespoons olive oil
1 Medium yellow onion (chopped)
1 Large carrot (chopped)
1 stalk celery (chopped)
1 Medium green bell pepper (cored, seeded, chopped)
1 Medium red bell pepper (cored, seeded, chopped)
3 cloves garlic (finely chopped)
1 tablespoon dried oregano
1 tablespoon chipotles in adobo (finely chopped)
2 teaspoons ground cumin
1 tablespoon chili powder
1 1/2 teaspoon salt
28oz can diced tomatoes (with their liquid)
3 cups cooked red kidney beans (drained)
1 1/2 cup cooked black beans (drained)
Directions
Step 1
Heat the oil in a large pot over medium heat.
Step 2
Add onions, carrots, celery, peppers and garlic. Cook for 10-12 minutes, until vegetables are softened but not browned.
Step 3
Add chipotles, oregano, cumin, chili powder and salt. Stir to blend.
Step 4
Add tomatoes and 4 cups of water.
Step 5
Gently simmer over low heat, uncovered for 45 minutes.
Step 6
Add beans and simmer an additional 30 minutes.
Step 7
Garnish individual bowls with green onions or sour cream, if desired.
Step 8
Enjoy!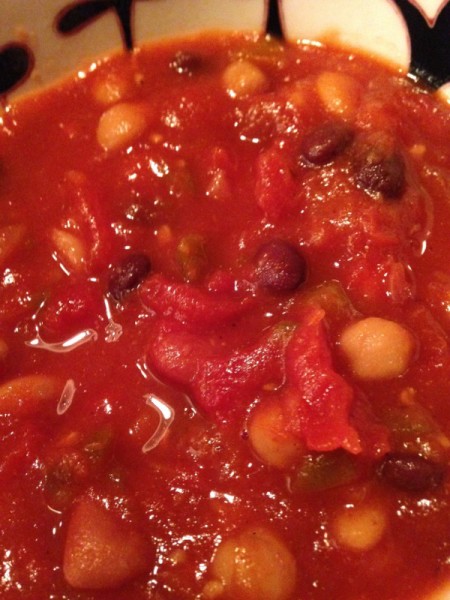 The wine pairing was easy: bubbles!  Although Champagne, Prosecco, Cava, or another sparkling wine would be lovely,  I chose a bottle of
Lucien Albrecht Brut Blanc de Blancs Crémant d'Alsace (NV). 
From family owned winery, Lucien Albrecht located in the Alsace region of France, this sparkling wine consists of 100% Pinot Blanc grapes.   It is made in the Méthode Champenoise with malolactic fermentation.  In the glass the wine is straw colored and elegant bubbles persist with enticing aromas of mineral and honeysuckle.  On the palate, I love its dry, light, and tart citrus tastes.  The Crémant d'Alsace works beautifully with the spicy chili because of its high acidity, neutral flavors, and sparkling mouthfeel.  Cost is $20.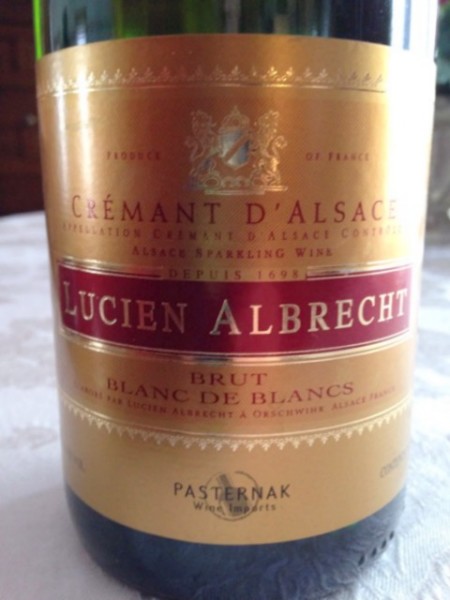 My Packers may not be playing in the Super Bowl, but I'm confident that I have a winning food and wine pairing sure to satisfy any football fan's palate.  And that's something to cheer for! 
Enjoy the game ~ Cindy