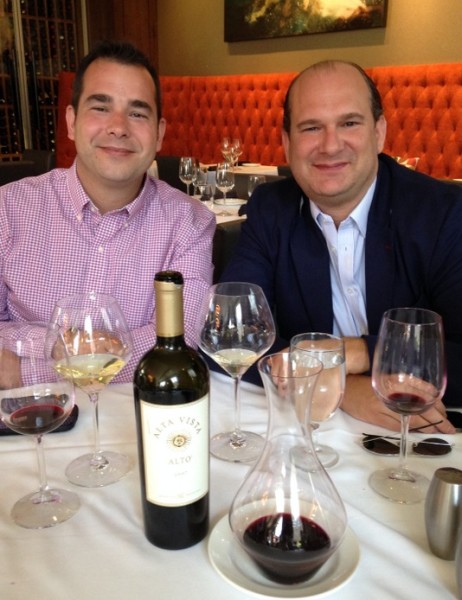 Del Frisco's in Chicago was the setting for my luncheon with two most interesting gentlemen: Patrick d'Aulan, owner of Alta Vista and Altamana wineries in Argentina and Chile respectfully, and Matthieu Grassin, Director of Winemaking at Alta Vista. Along with Erin Draper, District Manager at Kobrand Wine and Spirits, and another writer, I relished this opportunity to learn more about these born and bred Frenchmen and the two wineries that are consistently producing award winning wines. And naturally I was enticed by those seven wines sitting predominantly on the table!
Patrick d'Aulan, humble and approachable, is from a family that produced wine for 150 years in France and until 1989 owned the famed Champagne house, Piper Heidsieck. Although his father had been producing sparkling wine in Argentina, Patrick felt the need to "do something different…with a challenge." After traveling the globe in search of a premium locale for winemaking, in 1998 he founded Alta Vista now recognized as one of Argentina's top producers. Situated between 3200 and 3609 feet in elevation, the vineyards are located in Valle de Uco and Lujan de Cuyo where some of the finest wines in Mendoza are cultivated. In 2001, d'Aulan pioneered the creation of single vineyard Malbec at Alta Vista; they are now "considered to be benchmarks of Mendoza's old Malbec terroir wines." Alta Vista's Torrontes is from Cafayate in Salta where vineyards are the highest in the world, between 6560 and 7550 feet in elevation. All vineyards feature ungrafted, original root stocks and grapes are handpicked.
In 2012, after extensive research, Altamana was founded in the historic wine region of Maule, Chile. d'Aulan's goal in this endeavor was to "resurrect century old Malbec vines planted by the pioneers of the Chilean wine industry" who brought the vines from France when they emigrated. Located between the Pacific Ocean and the Andes Mountains, vines thrive with a coastal influence that lends protection from excessive heat during the day and offers cool temperatures at night. Altamana is the "first Chilean winery of French pioneers specializing in south Chilean historical Malbec." The unique 100% Malbec single vineyard wines from Altamana truly reflect the terroir of southern Chile; old vines with low yields provide quality fruit. Patrick d'Aulan feels that both Alta Vista and Altamana are in locations "gifted with nature" and I encourage you to check out their websites for more information.
Assisting Patrick d'Aulan at Alta Vista is Matthieu Grassin who has been the winemaker since 2007. After having studied Agronomist Engineering with specialization in viticulture and enology in Angers, France, Grassin arrived in Argentina ins 2000 to work on his thesis, Terroir Effect in Mendoza. He subsequently received a master's degree in viticulture and enology from the University of Cuyo, Argentina.
Gregarious and enthusiastic about the viticultural process, their "Terroir Management" system, and the wines produced at Alta Vista, Grassin was excited to share (from his smartphone!) infrared photographs used to make detailed maps of the various vineyards. The information from the maps assist Grassin and the winemaking team in adapting growing methods and harvest dates specific to each vineyard. The team at Alta Vista has made a strong commitment to sustainability in viticulture and winemaking practices and both d'Aulin and Grassin agreed that technology is of paramount importance in this mission.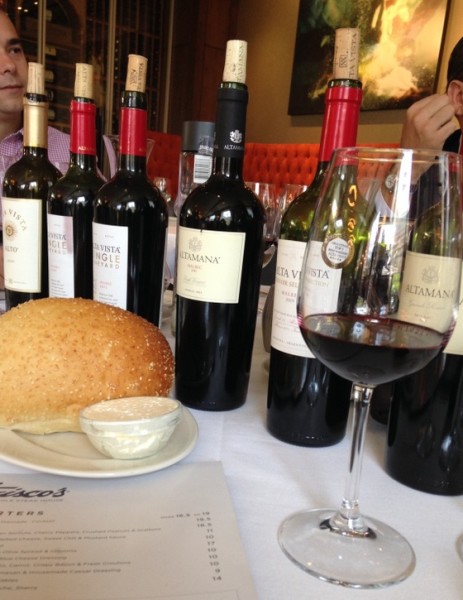 As we were learning about the regions and wineries while enjoying our delicious lunch, the wines were poured. Our first,
Alta Vista's
Torrontes 2012
, was aromatic, crisp and refreshing with a creamy mouthfeel and complexity (in my opinion, not often found in Torrontes) thanks to having been aged on the lees for three months and three months in the bottle. Next the full bodied
Terroir Selection Malbec 2009
, was a blend from four vineyards, offering ripe red fruit aromas on the nose and palate with food friendly acidity, balance, and a perfectly satisfying finish. These selections were a lovely way to continue the conversation…
Tastings of the others followed with two single vineyard Malbecs from Alta Vista. The first was the Single Vineyard Malbec Serenade 2011, round and rich that displayed ripe, red fruit aromas and earthy, almost meaty notes on the palate woven with chewy tannins. The Single Vineyard Malbec Temis 2009 was aged in new French oak for twelve months and six months in the bottle. I found spice, fresh fruit, and balance leading to a lingering finish.
Our final wine from Alta Vista was Alto 2007, a blend of 70% Malbec and 30% Cabernet Sauvignon. High quality grapes from small vineyards with low yields were aged for fourteen months in new French oak and at least twelve months in the bottle. I loved the elegance and complexity of this wine; its black fruit aromas and flavors of cocoa, spice, and more juicy fruit were absolutely mesmerizing…as were its silky smooth tannins and brilliant, lasting finish.
Having never tried wines from the Maule region of Chile, I looked forward to tasting those with limited production from Altamana. Dry farmed, Single Vineyard Constanza Old Vine Malbec 2012, was complex all the way from the nose to the rich, long finish. This wine with its dark cherries, fresh picked blackberries, and sweet spice was incredibly balanced with a fruit forward yet dense profile. Finally, the Grande Reserve Old Vine Malbec 2013, was intense in the glass and on the palate. Aged in French oak for nine months, the Grande Reserve is unfined and unfiltered in order to maintain its unique character. I found notes of red berries with integrated tannins and a rich finish…a delicious example of a wine from this historic region.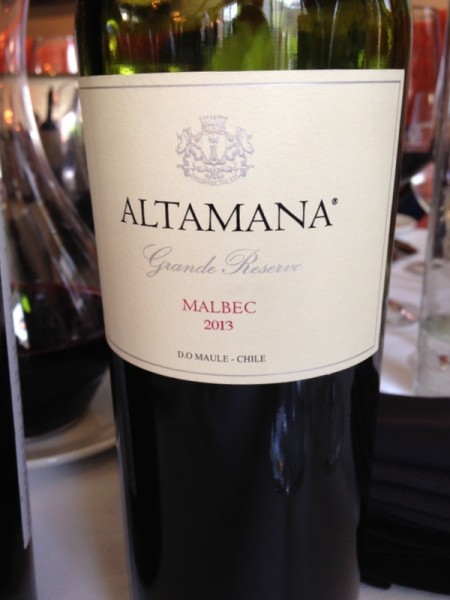 And the French twist? After having spent two hours chatting about and tasting wine with Patrick and Matthieu it would appear that their French expertise in wine coupled with the unique terroirs of Argentina and Chile result in a memorable, delicious, and award winning pairing. 
Cheers~ Cindy