It's that time of year when football fanatics sport their team's colors and gather around the television with hopes that the Super Bowl game (or its highly touted commercials) will not be a complete waste of time. But don't worry. With a few sips of these delicious red wines and heaping spoonfuls of turkey and bean chili, your evening will be anything but!
Although I love football, I am mildly interested in the game itself, unless the Green Bay Packers are involved, at which point the game gets real. If I'm at a Super Bowl party, I'd rather chat with friends, glance at the commercials, graze among the bounty of food, and have a few drinks. And if I'm staying at home with my husband or a few friends, I'm more than happy to make a scrumptious (but easy) dinner, open a few bottles of wine, and make the evening as fun as possible! Read on.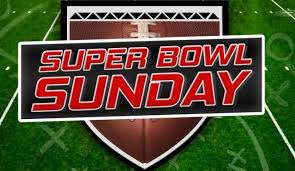 This year, I'll watch the game at home after having partied and danced the previous night away at a wedding in Chicago. The wines have been chosen and are not only approachable on their own, but make a fabulous, game changing pairing with the easy menu I've planned.  You'll want to keep this post handy for many gatherings to come!
The Turkey and Bean Chili is a recipe I found from myrecipes.com.  You'll be surprised at how easy it is to double or triple the ingredients to create a savory, healthy one pot meal for a crowd.  I suggest serving a few appetizers as starters and creating a fun, unique salad with fresh ingredients as a side. You may want to bake some tortilla chips smothered with cheesy goodness on a tray for extra munching or show off your cooking skills with this homemade Sicilian pizza cut into small bites.  Your guests will stand up and cheer when you present a dessert of the fudgiest of brownies or your favorite cookie recipe!
But let's get to the wine! A glass of any or all of the three red wines, reviewed below and sent as samples, will satisfy the palate of the most discerning "wine with chili lover"! Each is under $20, ever so food friendly, and a true game day winner with a steaming bowl of Turkey and Bean Chili.
The Federalist Lodi Cabernet Sauvignon 2014 – You can't miss with this blend of Cabernet Sauvignon, Merlot, Cabernet Franc, Petite Syrah, and Sangiovese in your glass. Intense aromas of red berries, blueberries, and vanilla led to tastes of more of the same in this balanced, rich wine.  Well integrated tannins, mouthwatering acidity, the optimal amount of rich fruit (think black cherries…wow!) and a lingering, velvety finish will have you begging for another glass…and possibly missing Beyoncé at halftime! Cost is $17.76. 
The Federalist Lodi Zinfandel 2014 – What's not to love about this memorable Zinfandel and Syrah blend? Spice, chocolate, herbs, and juicy blueberries were enticing on the nose as were notes of vanilla, more spice (thank you!), black cherries, and dried herbs on the palate. Full bodied with bright acidity, the spice on the zesty finish blended incredibly well with the flavors of the chili. Go ahead…pour another glass (or two)! Cost is $17.76.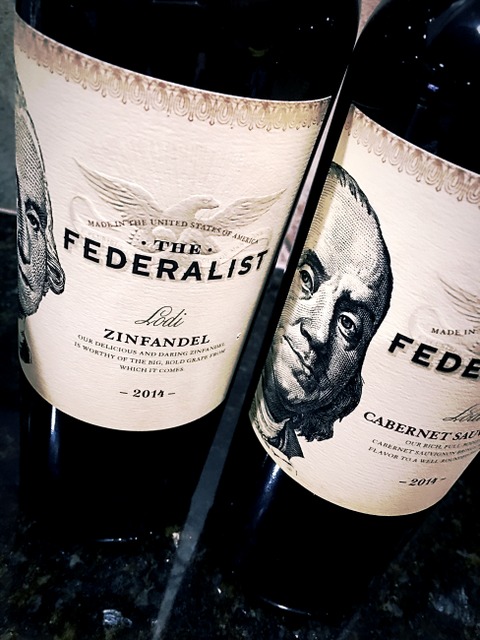 Frontera Cabernet Sauvignon/Merlot 2014
– From the Central Valley of Chile is this approachable wine that is ready to drink at any time (pre-game anyone??). Red berries, ripe cherries, hint of vanilla, and subtle herbal notes on the nose and palate were satisfying long after that last bite of chili. This is a wine that your guests will be pouring all night…consider purchasing the 1.5 liter size for only $12!
Turkey and Bean Chili

Print recipe
Ingredients
1 cup pre-chopped red onion
1/3 cup chopped, seeded poblano pepper ((about 1))
1 teaspoon bottled minced garlic
1 1/4lb ground turkey
1 tablespoon chili powder
2 tablespoons tomato paste
2 teaspoons dried oregano
1 teaspoon ground cumin
1/4 teaspoon salt
1/4 teaspoon black pepper
19oz can of cannellini beans (rinsed and drained)
14.5oz can diced tomatoes (undrained)
14oz can chicken broth
1/2 cup chopped, fresh cilantro
6 lime wedges
Directions
Step 1
Heat a large saucepan over medium heat.
Step 2
Add first 4 ingredients. Cook for 6 minutes or until turkey is done, stirring frequently to crumble.
Step 3
Stir in chili powder and next 8 ingredients (through the broth). Bring to a boil.
Step 4
Reduce heat and simmer 10 minutes.
Step 5
Stir in cilantro. Serve with lime wedges.
Step 6
Enjoy!!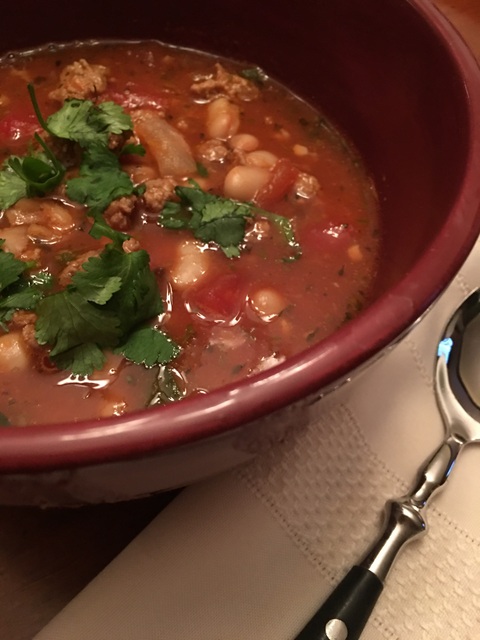 Cheers! ~ Cindy