After a recent dinner at the Omni Hotel in Chicago, I'm seriously considering a trip to Chile. The food friendly array of wines and culinary treats sampled at their ninth Flavors Of The World: ¡Destinación Chile promotion in partnership with Wines of Chile were enough to make me want to pack some bags. And if the people in Chile are as warm and welcoming as those at the contemporary Restaurant 676 with sweeping views of Michigan Avenue, when's the next flight? Realistically, though, that trip won't happen for awhile for me and perhaps for you. Thankfully, we can experience the local flavors of Chile at your nearest Omni Hotel.
Each year, the culinary team at the Omni Hotels & Resorts explores a new country boasting distinctive wine and food to promote. Until December 31, 2015, all hotels will be profiling an array of carefully chosen wines, bar bites, entrees, and desserts that reflect the bold, rustic flavors of Chile. I was invited to learn and taste a sampling of offerings that are characteristic of this fascinating country and presented in a modern, updated style. Chile is considered by many to be a "culinary mecca." I found out why…(you'll love the following video).
Let the evening begin! After the first sip of the Vina Cono Sur Brut, NV from the Bio Bio Valley I knew that this experience would be special. The persistent bubbles in this dry, sparkling wine led the way to gentle citrus tastes and a lovely finish – a perfect aperitif. The Vina Cono Sur Riesling, "Bicicleta" from vineyards in the Central Valley and the Wave Series "Right Wave" Pinot Noir from the Leyda Valley were a lovely counterpoint to the spicy tastes of the first course, fried potato cakes topped with avocado, banana pepper, tomato and Chilean sea salt.
Three traditional country empanadas each with tender beef, creamy shrimp and cheese, or caramelized onions were even more delectable when paired with the Vina Cono Sur "Bicicleta" Viognier from the Central Valley, a refreshing, snappy choice, or the Carmen Gran Reserva Carmenere from Apalta with its bold, earthy profile. When the large platter of tender steamed mussels with tomato, onion, bell pepper, and cilantro arrived I couldn't help but have a taste of the dry, crisp, fruit forward Haras de Pirque Sauvignon Blanc from the Maipo Valley with the spicy seafood. Are you hungry yet?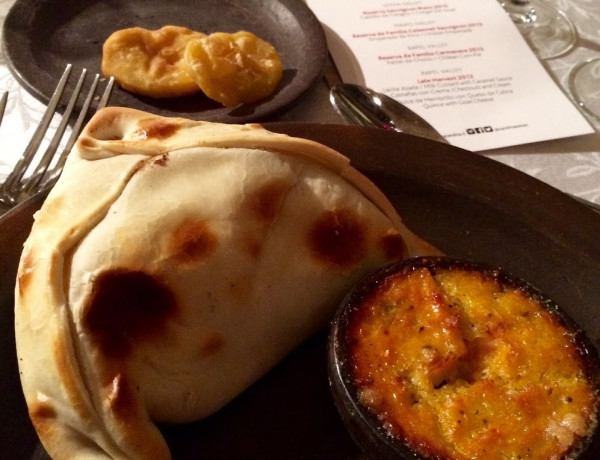 Finally, pork ribs slowly cooked in beer and palm honey with Chilean smoked pepper graced our table. Our knowledgeable server, Adrian, suggested a pour of the rich, flavorful
Haras de Pirque, "Character"
, a blend of Cabernet Sauvignon and Carmenere from the Maipo Valley. This was a delicious finale to a dinner bursting with flavors.
Although I have tasted and enjoyed many Chilean wines, I was excited to discover more choices that complement its bold, tantalizing cuisine prepared by Chicago's Chef Anthony. Although I may not travel to Chile in the near future, the Omni Hotels & Resorts was a perfect destination for this unique experience. It should be yours, too!
Salud! ~ Cindy