It's almost Friday and you are already thinking about your weekend plans and perhaps which wines to purchase.  Weekly, I post two recommendations, one white and one red, for your weekend choices which are usually under $20.  On occasion, I pair a wine with scrumptious recipe…like this week.  We're pairing bacon popcorn with bubbles and you must try this!
I am a huge popcorn fan and one of my favorite beverage with that crunchy snack is a glass of sparkling wine - especially if I'm watching one of my favorite shows!  Recently, I found this recipe for Bacon Popcorn and just have to share it with you.  It's couldn't be easier to make and will satisfy any popcorn lovers need for texture, salt, cheese, and of course, the magic ingredient…bacon!  Paired with a special Sofia Blanc de Blancs from Francis Ford Coppola Winery your taste buds will thank you!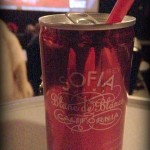 **Sofia Blanc de Blancs 2012 - I popped the flip top of the can of chilled Sofia Blanc de Blancs (purchased) while at an Oscars 2014 viewing party doubling as a charity event at a local theatre.  Yes, this can with a straw was a mini version of the bottle and if you haven't had it already, I suggest you do since it's a great way to smuggle in a bit of bubbles during a movie if you know what I mean!  I was a but suspect of the can idea, but the blend of 82% Pinot Blanc, 8% Muscat, and 10% Riesling made it worthwhile and I look forward to opening up a bottle soon!! What I enjoyed were the fizzy, fresh mouthfeel of raspberries, apples and pears and a nice finish.  The fruity effervescence was a terrific counterpoint to the bacon popcorn (recipe below) - just try it!!  And for $5, you can't miss!
Bacon Popcorn
Ingredients
1/2 cup bacon grease
3/4 cups unpopped popcorn kernels
1/2 teaspoon seasoned salt
3 tablespoons bacon bits (optional)
1 cup shredded cheese (optional)
Directions
Step 1
Measure the bacon grease and place in a 6 quart pot over high heat.
Step 2
Add one or two popcorn kernels to test. Once the kernels begin popping, add the remainder of the kernels and cover with a lid.
Step 3
As the popcorn starts to pop, shake the pan back and forth constantly to keep the unpopped kernels on the bottom where they can pop.
Step 4
When the popping slows down, remove the pan from the heat and let it finish popping.
Step 5
Pour the popcorn into a large bowl or paper sack. Season with half of the seasoned salt and stir. Taste before adding more salt!
Step 6
Toss popcorn with bacon bits and shredded Cheddar cheese for an extra special treat.
Step 7
Enjoy with a lovely glass of bubbles!
 Cheers to the weekend! ~ Cindy