From the first swirl to the last sip, the Cornerstone Cellars 2011 Napa Valley "The Cornerstone" can be described in one word:  exceptional.  But I have others, too.
Craig Camp, Managing Partner of Cornerstone Cellars, has once again produced a stellar wine from a challenging vintage year in Napa.  A wet winter, spring, and early June delayed bloom and affected the fruit set.  Yet, a steady temperature throughout the summer months allowed the fruit to ripen slowly and evenly.  Cool and wet weather in September and October delayed harvest, but weeks of beautiful weather followed and provided time for ripening.  Thanks to the patience of growers and the talent of winemaker Jeff Keene, Cornerstone wines from the 2011 vintage exude the classic sophistication and style for which they are known.
I opened "The Cornerstone", sent to me as a sample, one evening to celebrate my husband's birthday at a favorite restaurant and realized immediately that this is a special wine.  Graceful and pure, complex and luxurious, Cornerstone Cellars 2011 Napa Valley "The Cornerstone" is everything a wine should be.  It can be held for several decades…but that wasn't about to happen.
"The Cornerstone" is a blend of selected barrels from Oakville Station Vineyard in Oakville.  A true masterpiece, 85% Cabernet Sauvignon, 10% Merlot, and 5% Cabernet Franc join to create intense, lush aromatics of dark rich cherries, licorice, plums, blackberries, and sweet spice. On the palate, sweeping strokes of deep red berries and more spice are framed by well honed tannins and bright, mouthwatering acidity which provide harmony and balance.  Its finish is long, elegant, and intriguing. Cost is $150.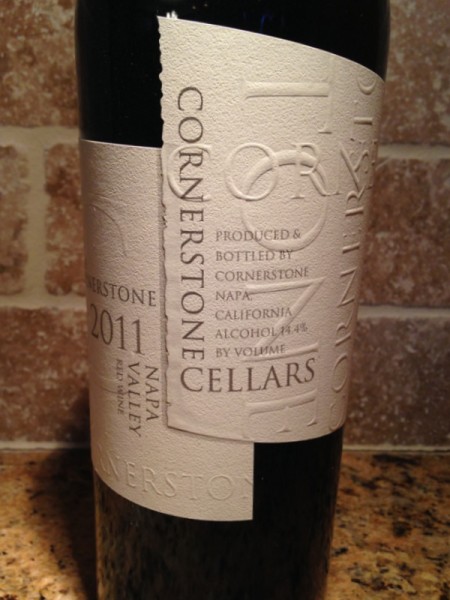 To be honest, I can't stop thinking about this exceptional wine.
Cheers~ Cindy