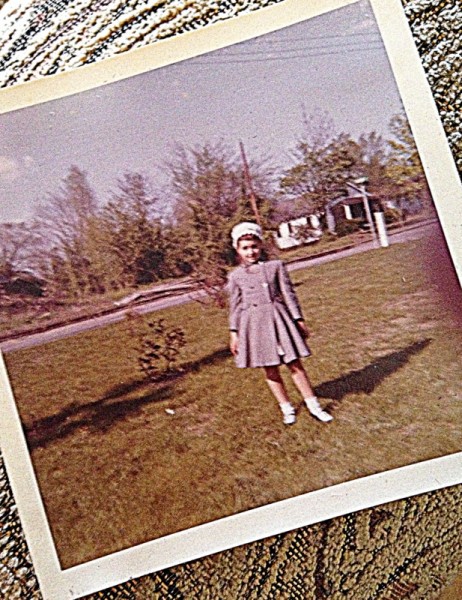 My earliest memory of Easter was spending the weekend at my grandparent's home in Tidewater Virginia.  My mother, the first fashionista I knew, made sure I was dressed up in the prettiest pastel dress possible complete with ruffles, a white cardigan with "real pearls" or a classic spring coat, socks full of lace, and shiny patent leather shoes.  On occasion I would wear a hat, short white gloves and a matching purse. I would accompany my family to church after which I would spend time with the other little girls in their own Easter finery.  As for the boys?  They looked miserable and couldn't wait to change from their uncomfortable pants and bow ties to…just about anything!   The mothers and grandmothers wore beautiful hats (at least I thought so!) and corsages of course.
A big Easter dinner was always after church.  We often dined at a restaurant until the line to obtain a table became so long and the wait so interminable that the glow of Easter, both literally and figuratively, disappeared.  Cooking at home was another option and a Smithfield ham with mint sauce or baked with cloves was always on the table.  Add creamy, buttery mashed potatoes, the ubiquitous green bean casserole,  homemade macaroni and cheese, spiced apples, fresh lima beans, and warm, melt-in-your mouth biscuits with plenty of butter and we had quite the meal.  There were always at least three desserts from which to choose – a cake from my favorite bakery, banana pudding, and a rich chocolate pie.   What I don't remember at all about Easter dinner was having wine at the table.  And it has been confirmed by my mother…wine was not served, but that's fine because I was too young to enjoy it anyway!
Easter traditions are different now.  Although there are still Easter egg hunts I don't see any hats or corsages worn on ladies under the age of 90.  Easter parades are a long forgotten memory.  Many people don't attend church yet still consider Easter a time for family although it's more difficult to gather a big group together in part due to the transient lives of many.  Going to the traditional "Champagne Easter brunch" is popular and reservations can now be made – usually no lines out the door.  Some decide to grill if the weather permits after they work in their yard…and the aromas of barbequed chicken or a juicy steak fill the back yard air.
Now that I'm an adult and the lacy socks are a thing of the past, an Easter tradition to which I adhere when entertaining at home is having wine available for those who would like a glass.  With the variety of food choices at an Easter brunch, casual neighborhood lunch after church, mid-day supper, or evening barbeque there always will be a wine which is and will be perfect and satisfying.
I have chosen a few delicious wines which I recently tasted and which may be just what you need to pair with your own Easter Sunday traditions – old or new.  Happy Easter!
Asolo Prosecco Superiore DOCG Millesimato (sample) – I can drink a glass of bubbly at any time and on Easter weekend, this Prosecco will be a fresh addition to your brunch or Sunday supper. The aromas on this sparkling wine from the hills of Montello and Asolo in Italy were clean and fruity with ripe green apple and notes of honey.  On the palate, more fruit notes with persistent bubbles were delivered and you will enjoy this incredibly smooth, easy drinking sparkling wine from your guest's first hello to their last goodbye! Serve cold and enjoy as soon as the cork is popped…even with jelly beans!  Cost is $15.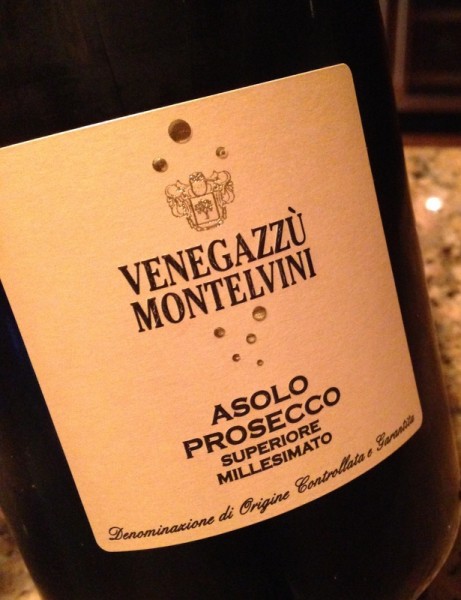 Hatzidakis Assyrtiko 2012 (sample) – Greek Easter is on April 20, too, but you don't have to be Greek to enjoy this fresh 100% Assyrtiko from Santorini.  Pale lemon tinged with gold in the glass, the aromas were of melon, jasmine flowers, salinity from the sea, and citrus.  The dry, high acid Assyrtiko brought notes of tropical fruit, beeswax, more florals, grapefruit, and lime to my palate.  The long, deep finish with plenty of minerality was truly food friendly and I paired this with wild salmon covered with herbs and vegetables then baked in parchment along with a green salad with feta cheese.   Decanter awarded the Hatzidakis Assyrtiko 2012 the number 12 spot in its list of top fifty wines of 2013.  And I can taste why!! Cost is around $18.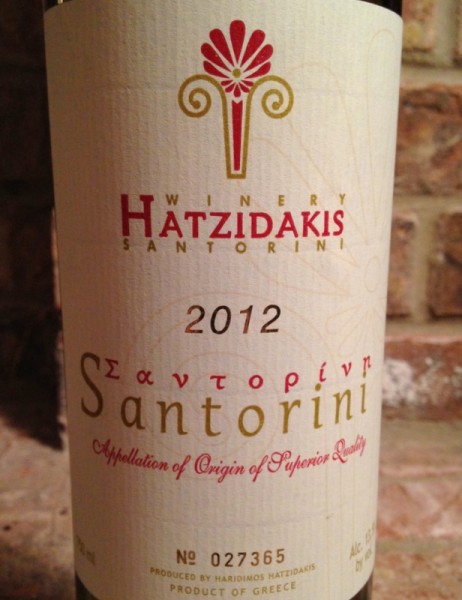 Bedrock Ode to Lulu Rosé 2012 (purchased) – This is my go-to rosé wine and although you have to be on the Bedrock Winery mailing list to obtain your allocated amount, it's so worth it.  From Sonoma County, the 2012 Rosé   is a blend of old vine Mourvedre, old vine Carignane, and Grenache.  Showing a warm pink salmon color in the glass, I loved its minerality, stone fruit, and honeysuckle aromas.  This dry wine with high acidity presented flavors of peaches, florals, more minerality, and a spice which offered a lift on the finish.  Pair with brunch, after the Easter egg hunt, and with friends or family!  Cost was around $20.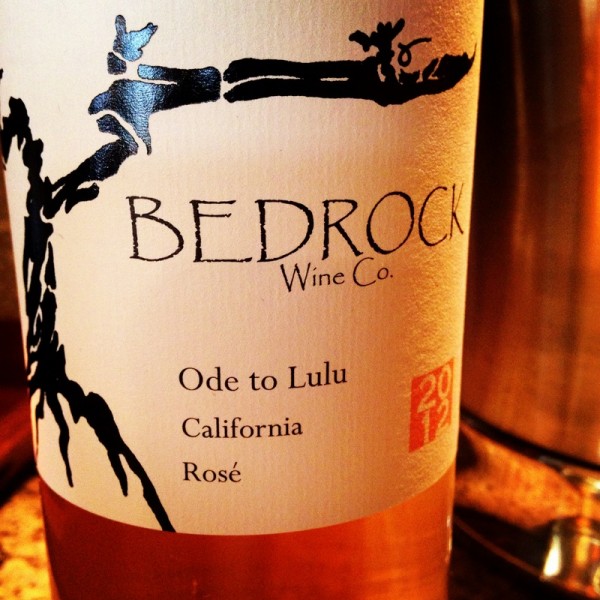 Elizabeth Chambers Cellar 2011 Winemaker's Cuvee (sample) – Liz Chambers, a third generation Oregonian whose family was one of the region's winemaking pioneers, founded this Oregon winery in 2013.  Grapes from local growers are sourced and I can honestly write that I was blown away by the balance of this 100% Pinot Noir.  Aromas of subtle red fruit such as ripe, red cherries and plums were mesmerizing.  In the glass, the balance between acidity, mild tannins, gentle dark red fruit, and alcohol made for a more than satisfying glass of velvety Pinot Noir.  You will love this wine with anything you prepare…from your Easter ham to grilled vegetables.  The cost is $32.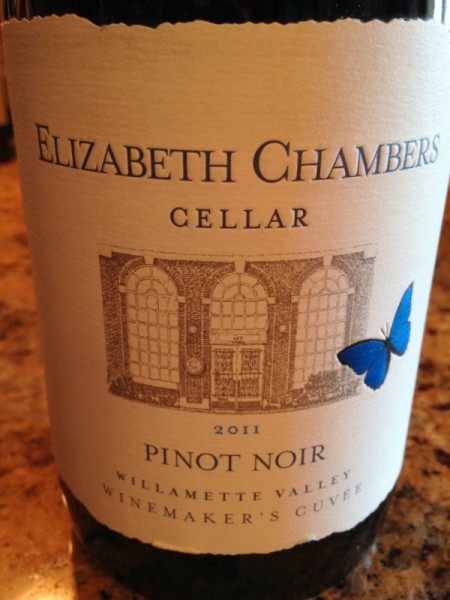 50 Harvests 2011 Napa Valley Cabernet Sauvignon (sample) – Are you firing up the grill on Easter Sunday? The 50 Harvests 2011 will be a memorable complement to your steak or lamb rubbed with your favorite spice followed by a plate of rich blue cheeses.  A blend of 94% Cabernet Sauvignon and 6% Petite Verdot, all of the grapes were sourced from the Oak Knoll District in Napa Valley.  The name, 50 Harvests, celebrates fifty consecutive California harvests for the Scotto family which has been producing wine dating back to 1883 in Italy.  This particular wine is among the first releases from their new winery, Steele Canyon Cellars, in Napa.  After aerating about twenty minutes, the intense aromas of warm, sweet spice, plums, raisins, and blueberries leapt out of the glass.  Silky tannins, just-right acidity, vanilla, deep red fruits such as cherries and raspberries satisfied my palate as did the lingering finish with notes of oak.  Well structured and balanced, the 50 Harvests 2011 will be perfect at your Easter festivities…or whenever you would like a very special Cabernet.  The cost is $50.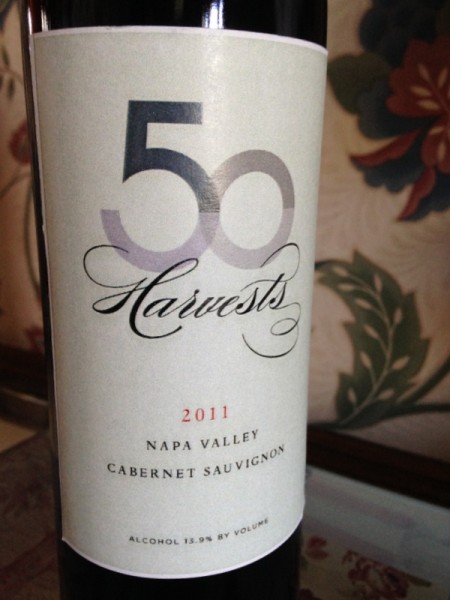 May your Easter be full of blessings, friendship, and family…and your traditions include an excellent bottle or two of wine! 
Cheers~ Cindy