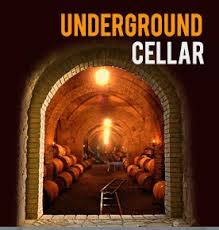 Let's take those spiral steps and go underground to a wine cellar with a different spin.  Underground Cellar, a new online wine startup, gives wine buyers amazing deals on some mighty nice wine.  Each bottle you purchase has the potential to be upgraded *for free* to one of a higher price.  Pay $20 and receive a $50 bottle instead?  It could happen to you (and read on for a code to help you receive $10 off of your first purchase within the next week)!
To test the process, the powers that be at Underground Cellar were nice enough to put $30 in my account (a benefit of writing about wine) after I signed up to be a member *for free*.   Their inventory of wine is offered as a "flash sale" meaning that their availability is on an extremely limited basis for a short period of time and change frequently.  Once the wine is sold out, you're out of luck…so if you see what you would like, make that purchase!
I logged on, reviewed the inventory which included wines from around the world and chose to use my credit to purchase two Mystery Wines, each costing $15, with only fifteen hours left for the sale.  Being the risk taker I am (and who doesn't love a good surprise when it comes to wine…) I reviewed the five choices knowing that I could either receive the least expensive $15 2011 Rosé of Pinot from Oregon or the highest priced $75 2007 Napa Cabernet Sauvignon.  Other offerings included a $20 2008 Alexander Zin, a $25 2006 Napa Valley Cabernet Sauvignon, and a 2005 Brunello de Montalcino for $54 (I was keeping my fingers crossed for that one!).   But my cost was $30 regardless of what was sent and the details about each wine remained a mystery.  Intriguing!
Although I chose to have the two wines shipped, I could have requested that they were to be held *for free* in their Cloud Cellar, a state of the art temperature controlled facility in Napa, until I ordered enough wine to guarantee free shipping.  Shipping costs are $5 for six bottles and *free* for a case of twelve to anywhere in the continental United States.  The Cloud Cellar makes perfect sense, but I was anxious to see what I was getting!
Once the flash sale was finished and inventory was sold out, my bottles were shipped.  What did I receive?
**King Estate Luminous Pinot Gris 2011 – Ahhh, I was thrilled to open the box and find out that this mystery bottle was from one of my favorite Oregon wineries, King Estate, although it was the least expensive in the group.  I loved the floral and fruit notes of strawberry and raspberry on the nose and this tart, dry Rosé with high acidity and more fruits had a pleasant finish which paired well with the light hors d'oeuvres I served one evening.  Serve chilled.
**Waterstone Cabernet Sauvignon 2006 – Opened one evening with "the girls" the aromas of jammy red berries, vanilla and plums were intense.  On the palate, spice was front and center and the velvety tannins, more deep red fruit, and eucalyptis led to a more than satisfying finish.  This wine was delicious and even more so after letting it breathe for twenty or so minutes.
I can't think of any reason not to purchase wine from Underground Cellar.  The wines I purchased were quite good and were upgraded (slightly) so I received a $40 value for the $30 spent – still a good deal.  Had I not liked either wine, I could have returned it for a replacement – their customer support is excellent.  Yes, I paid the shipping cost myself, but the next time I use Underground Cellar, I'll choose to store my choices in their Cloud Cellar until I accrue a case.
Check out the following video for a brief overview (it's fun to watch) as well as their website for their current inventory and FAQs which include how to gather points so you can save even more money on your wine purchases.
And if you sign up to be a member, you can use the code GRAPE10 to save $10 off of your first purchase within the next week!

 Underground Cellar is one place I'll want to visit again.  It's no mystery that wine from their cellar to mine is a smart choice:  case closed!
Cheers! ~ Cindy