I know you love quizzes to test your *wine* knowledge!  Every two or three months, I post a wine quiz to see if you know your stuff and actually remember what you read while checking out my site. This quiz is in a multiple choice format covering posts written from late July through early October 2014.  Just scroll down to the end of the page to find out if your response is correct.  And for more info, the number of the question is linked to the entire article written about the answer!
Have fun! ~ Cindy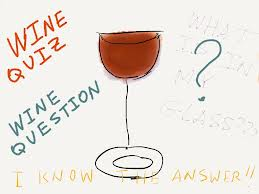 1.  What varietals are grown in the Finger Lakes AVA?
a.  Cabernet Sauvignon and Merlot     b.  Riesling and Gewurtztraminer     c.  Sangiovese and Nero d'Avola     d.  Malvasia Bianca and Viognier
2.  Adelsheim Vineyard is located in which state?
a.  California     b.  Virginia     c.  Oregon     d.  Michigan
3.  My brunch recipe for Mexican Egg Casserole paired beautifully with which wine?
a.  Monastrell     b.  Pinotage     c.  Semillon     d.  Prosecco
4.  Malagousia is a grape grown in which country?
a.  Greece     b.  New Zealand     d.  South Africa     e.  Australia
5.  Pedro Ximenez is grown in which country?
a.  France     b.  Chile     c.  Croatia     d.  Hungary
6.  The town of Cambria is closest to which California wine region?
a.  Lodi     b.  Santa Barbara     c.  Sonoma     d.  Paso Robles
7.  Cecchi Chianti Classico is a tasty pairing with which dish?
a.  vegetable lasagna     b.  warm apple crisp     c.  Greek shrimp     d.  coq au vin
8.  Where in New Zealand does Pinot Noir reign (in my humble opinion)?
a.  Marlborough     b.  Central Otago     c.  Hawke's Bay     d.  Auckland
9.  Riverbench Winery in the Santa Maria Valley is my favorite producer for what type of wine?
a.  Sauvignon Blanc     b. Rose of Monastrell     c.  Sparkling     d.  Grenache, Syrah, Mourvedre blend
10.  Which should you do when at a wine tasting?
a.  Wear white     b.  Hold your glass at the stem     c.  Stay at the tasting table for a long time     d.  Drink from the spit bucket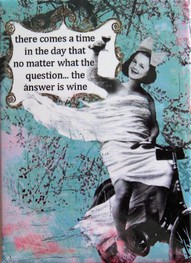 Answers:
1.b     2c     3d     4a     5b     6d     7a     8b     9c     10b